Welcome to the world of the gastro tub. Here, we explain everything you need to know: how to choose the right container for your business, what material and size to choose, what accessories to use..
Generally speaking, whether for storing, preparing, cooking or transporting food, gastronorm containers are widely used in professional and institutional catering. In addition to their different dimensions, gastronorm containers can be made from a variety of materials. The size and material you choose for your gastronorm container will depend on how you intend to use it.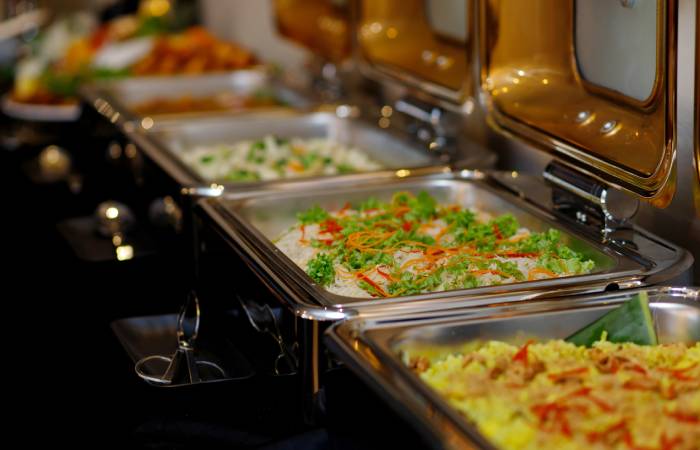 What is the Gastro norm?
Gastro norm is a standardized European format. It designates the size of containers and enables all those involved in professional catering to use the same bins for different layouts and tasks. The same Gastronorm container can be used in a rack, a transport cart, a sink, a dishwasher, a cooling cell, a refrigerated display counter, an oven, a bain-marie and even a dishwasher.
How to choose your gastronorm tub?
Depending on your line of business, your organization and the space you have available, you'll be able to choose the food processor best suited to your needs. First of all, you'll need to choose the right dimensions: width, length and height (depth of container). Next, you'll need to choose the right material for the type of food you'll be placing in it.
Gastroland offers a wide range of Gastronorm containers in stainless steel (solid or perforated), Polypropylene, Tritan (Bisphenol A-free copolyester), Polycarbonate*, as well as high-temperature Grilamid containers.
*Please note that polycarbonate is not authorized for food use in France since the ban on BPA on January 1, 2015. However, some distributors continue to offer it for non-food use.
What size should I choose for a gastronorm tub?
Standard dimensions (length x width) are as follows:
GN 1/1: 530 x 325 mm
GN 2/1: 530 x 650 mm
GN 1/1: 530 x 325 mm
GN 2/4: 530 x 162 mm
GN 2/3: 354 x 325 mm
GN 2/8: 325 x 131 mm
GN 1/2: 325 x 265 mm
GN 1/3: 325 x 176 mm
GN 1/4: 265 x 162 mm
GN 1/6: 176 x 162 mm
GN 1/9: 176 x 108 mm
Each container is available in the following main depths: 20, 40, 65, 100, 150 and 200 mm. So it's important to choose the right size for your needs.
What material should I choose for a gastronorm tub?
Gastronorm trays can be made from stainless steel, enamelled steel, non-stick coated metal, synthetic or composite materials, earthenware or porcelain. They can be solid or perforated to facilitate draining or certain types of cooking. Gastroland offers five types of material: stainless steel, Polypropylene, Tritan, Grilamid and Polycarbonate (note that the latter is for non-food use).
Stainless steel: easy-care and robust
The stainless-steel gastro tub is the most widely used, as it combines the greatest number of criteria and can be used for all your needs. However, there are several types of stainless steel, so make sure it's of good quality to prolong the life of your bin. One of the best stainless steels is AISI 304, which guarantees exceptional resistance to corrosion. At Gastroland, all our solid stainless steel bins, perforated bins and vacuum containers are made from AISI 304 stainless steel, guaranteeing superior quality.
Plastic containers: graduated and easy to clean
Polypropylene, Tritan (BPA-free copolyester) and Grilamid: all feature graduated capacity markings, are stackable and easy to clean. Depending on the material, they will be more or less transparent, and their temperature resistance will differ.